Steamboat Springs Real Estate Report
Temperatures are rising a bit yet the snow is still falling. I guess you could say that spring is in the air in the Rocky Mountains.
As is typical for this time of year, we saw a decline in real estate transactions. January is typically a slow month regarding real estate closings. 69 closings for the month of January in Routt County, for a total of $20.4M in gross volume. This is a -40.58% decline over January 2013.
> Volume DOWN 40%  from last January
> Transactions were DOWN -31.68% from January 2013
> 71% of transactions were under the price point of $500,000
> Bank sales DOWN to 3 transactions in January from 7 in December
As I mentioned in last month's real estate report, average home prices can be misleading as it is not a straight across the board number. Home values differ depending on the neighborhood.
Even though January was not a great month, pending sales are going up and inventory is going down. More demand & less supply means rising prices.
        Pending Sales                      Inventory
January 1 = 98                               1,566
February 1 = 103                           1,549
March 1 = 112                                 1,548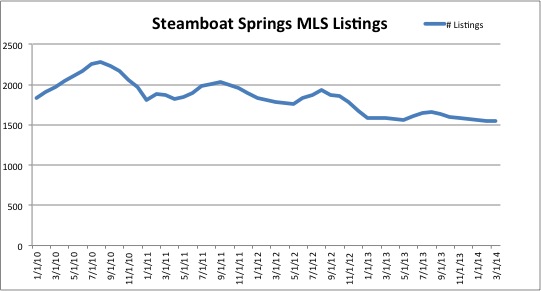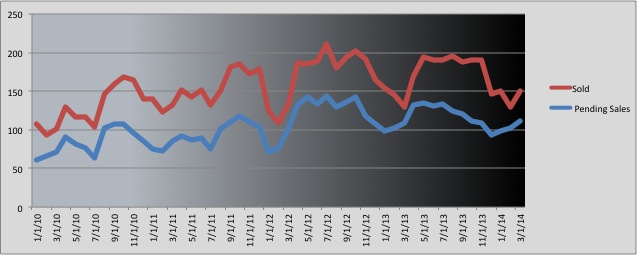 National Real Estate Market Update
The national home price index for 2013 posted its best year since 2005. According to the latest S&P Case-Shiller Home Price Index National Home Prices closed the year with an 11.3% increase over 2012.
While housing ended the year on a high note, economists do not expect such a strong recovery of home values to continue at the rate they have been.  Existing home sales fell 5.1% in January from December to the slowest pace in over a year. David Blitzer, chairman of the index committee at S&P Dow Jones Indices stated, "Some of the weakness reflects the cold weather in much of the country. However, higher home prices and mortgage rates are taking a toll on affordability. Mortgage default rates, as shown by the S&P/Experian Consumer Credit Default Index, are back to their pre-crisis levels but bank lending standards remain strict."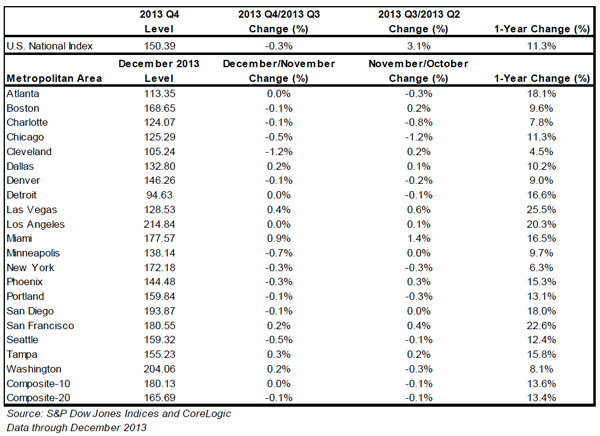 If you would like to learn more about Steamboat's real estate market and the lifestyle that we enjoy here, please contact me or follow me on Facebook, Google+, YouTube, Pinterest and Twitter. I am passionate about this community and real estate, let me show you why.
Happy spring skiing,
Charlie
Want to learn more about me?
Charlie Dresen
Real Estate Associate Broker |Sotheby's
Local Knowledge | Global Exposure| Defining Service 
970-846-6435 | 
SteamboatsMyHome.com

Charlie@SteamboatsMyHome.com