Steamboat Springs, Year End 2016 – CO Real Estate Report
Year end figures for 2016 are here! Let's review:
Routt County Real Estate Market 
We had projected, based on high "pending" sales during December and dollar volume that 2016 would exceed 2015. But well fell just short with volume less than 1% below 2015 numbers. December was a reasonable month but down from the same time last year with 131 Transactions and $79.9M in Gross Volume.  Compared to last December, Gross Volume was off by -19.45%, with the YTD. at -0.75%.  Transactions were also off by -7.75% compared to last December, with the YTD. at +5.63%.
I do however, predict the January and February numbers to increase because of the high amount of pending sales we have today.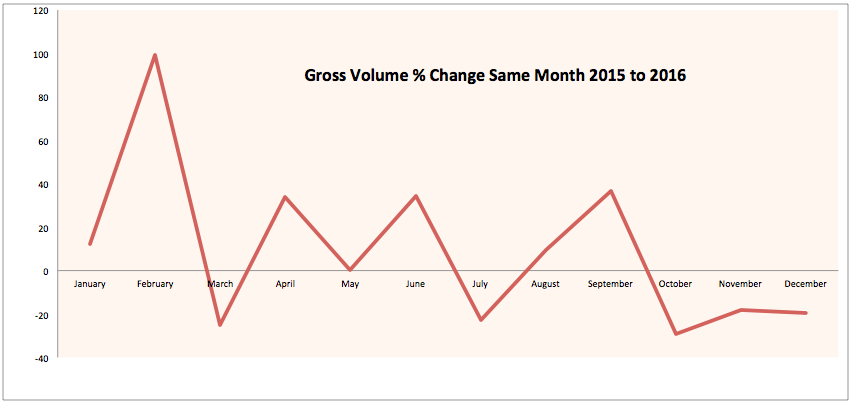 Here is a quick snapshot of 2016 year end values for Routt County sales:
Average Sales Price:
Single Family +7%
Multifamily -1%
Vacant -49%
Median Sales Price:
Single Family +16%
Multi Family +5%
Vacant Land -62%
Average Price Per Square Foot
Single Family +9%
Multi Family +4%
Vacant Land +8%
December did see an increase in high end unit sales over November, 2016. And while the number of single family homes sold in December 2016 were down 32% from the same time last year, the Routt County Board of Realtors Monthly Indicators Report shows that pending sales are up 50%. Perhaps January might see a bump..

Residential Transaction Price Point Analysis December 2016

Price Point

# of transactions

% of transactions

Previous month % of transactions

% of gross volume

Previous month % of gross volume    

Under $500K

45

57%

62%

 23%

33%

$500,001 – $1M

24

29%

29%

 30%

34%

$1M – $3M

 10

12%

8%

33%

24%

Over $3M

 2

2%

1%

14%

9%
This chart notes single family and multi family residential sales, 81 total transactions for the month of December. Not shown here are the 10 timeshare transactions, 26 land, 12 commercial and 5 miscellaneous transactions for a total of 131 transactions. There were 2 bank sales in December 2016.
View full December 2016 Routt County market statistics here
National Real Estate Market
The latest S&P CoreLogic Case-Shiller U.S. National Home Price Index reported a 5.6% annual gain in November, up from 5.5% last month. Of the 20 cities included in the census, eight cities reported greater price increases in the year ending November 2016 versus the year ending October 2016.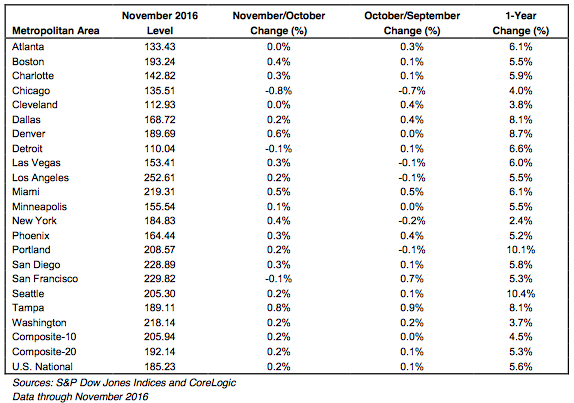 "One can argue that housing has recovered from the boom-bust cycle that began a dozen years ago," says David M. Blitzer, Managing Director and Chairman of the Index Committee at S&P Dow Jones Indices. "The recovery has been supported by a few economic factors: low interest rates, falling unemployment, and consistent gains in per-capita disposable personal income. Thirty-year fixed rate mortgages dropped under 4.5% in 2011 and have only recently shown hints of rising above that level."
Blitzer continues to note that  "The new Administration in Washington is seeking faster economic growth, increased investment in infrastructure, and changes in tax policy which could affect housing and home prices. Mortgage rates have increased since the election and stronger economic growth could push them higher.
There is clearly uncertainty as we look to the future but we can expect the current trends to continue in the near future at least.
Regards,
Charlie
Want to learn more about me?
Charlie Dresen
Real Estate Associate Broker |Sotheby's
Change Your Experience
970-846-6435 | SteamboatsMyHome.com
Charlie@SteamboatsMyHome.com